Table of Contents
What is ESC?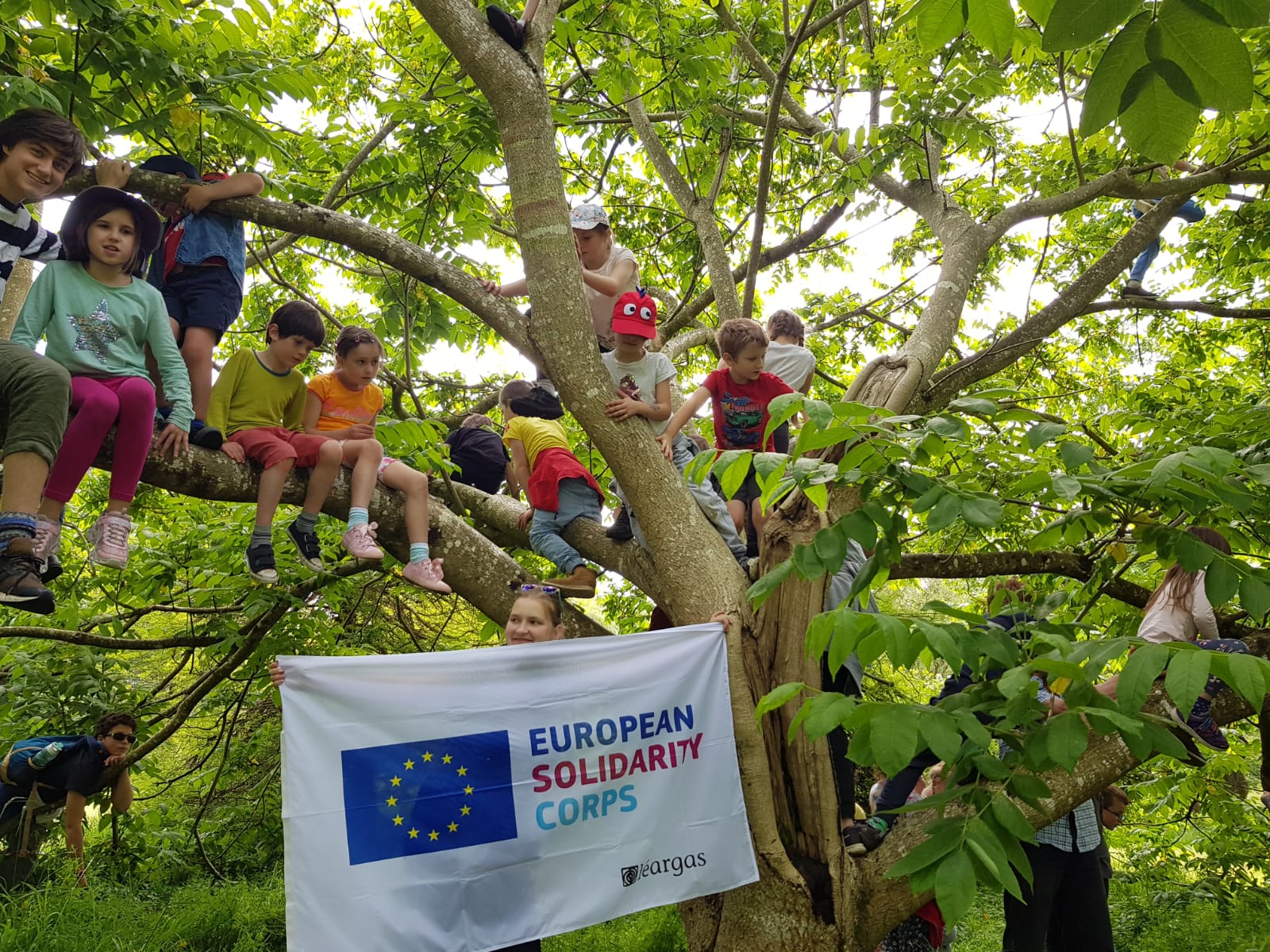 The European Solidarity Corps (ESC) funds and supports young people between 18 and 30 to volunteer or work in projects that benefit communities. It's an initiative of the European Union and offers an inspiring and empowering experience for those who want to help others as well as learn and develop themselves.
Each year Kilkenny Steiner School welcome ESC volunteers from all over Europe, offering a wonderful opportunity to come and learn, enjoy and participate within a Steiner education community, working closely with teachers, parents and the children, and become involved in our daily lives.
You as an ESC Volunteer can bring a welcome and long lasting impact to the school community, offering a new energy and enthusiasm to all involved. Spend time reflecting on your experiences and personal growth as you immerse yourself in a different community and embrace the richness of intermingling cultures…

I had a great a time in the Kilkenny Steiner school! I am from Germany and I knew barely nothing from the Steiner teaching methods so it was a completely new experience for me. But with the great team at the school and the really lovely parents I felt very welcomed since the first day in school. During the time I learned a lot from the Steiner teaching methods and I really liked it because it is a lot better for the child's development.

I loved the atmosphere at school because it was always like
a family and everybody treated me very well.

So all in all it was a life affecting experience I came back to Germany with a lot of new knowledge and experiences!

Alex Zwiebler ESC Volunteer. Jan – June 2019
What are the Qualities needed in a Volunteer?
We look for volunteers who are enthusiastic and motivated to make the placement a
success for everyone involved. Ideally our volunteers would have an interest in or
experience of Steiner Education obtained through training, voluntary work or hobby and
have a basic understanding of the Steiner Ethos, and would like to learn more of.
A love of working with children;
enthusiasm to learn new skills;
open mindedness;
an interest in Steiner education;
a team worker and team player;
an interest in exploring Ireland and its culture;
an interest in learning more about yourself.
We look for candidates that have proven themselves to caring or nurturing in their
previous experiences. They are required to have a mature outlook and to be able to live
independently in nearby Callan and to deal responsibly and appropriately with children. It
is important that they are able to take initiative under guidance.
What will the work involve?
Along with helping in the classroom, volunteers will be invited to enjoy the festivals
that we celebrate to mark the changing of seasons and to be involved with the
creativity at school, through arts and crafts, gardening, music etc,.
Accommodation
Volunteers will have their own bedroom with shared kitchen, bathroom and living space
with either a host family or in a shared house with other ESC volunteers.
Mentorship
While volunteering abroad can be richly rewarding, it can also be challenging. All our
volunteers attend a structured mentoring program which provides on-going personal
support throughout the duration of the placement. This helps participants settle in to their
new environment, offering social, emotional and cultural support and learning
opportunities. It's also a chance for the volunteers to get to know other volunteers and
share the joys and challenges of living away from home.
How to get involved
The ESC programme is open to young people between 18 and 30, from all EU countries
outside of Ireland.
visit https://europa.eu/youth/solidarity_en for more info
and https://www.leargas.ie/programmes/european-solidarity-corps/ to apply.

My name is Sabine, I am 18 years old and I am from Germany. I worked as a volunteer at the Kilkenny Steiner School from November 2018 to July 2019. I was in the joined third and fourth grade, there I helped Steffi, the teacher, wherever she needed help. I prepared materials for crafts and paintings, played with the children and supported them if they had any questions or needed help.

Sometimes I helped out in the other grades. The school is not too big and it was really easy to integrate, everyone who attended or worked there was really open. I learned a lot while being at this school. Besides Maths, English and Irish here were subjects like Norse Mythology, Gardening, Handwork and Form-drawing. Because the classes weren't too big it was easy to work individually with some kids who struggled a bit.

For the 8 months I was abroad I lived in a host family in the nearby town called Callan. Every morning and afternoon either a teacher or a parent would drop me off. It was really nice living in Callan, because there were other volunteers from all over Europe.

Sabine Richter ESC Volunteer Nov 2018 to July 2019